Origins
DNA
A unique story, which will later be written by the experienced hands of the artisans of the Place Vendôme, in collaboration with Irene.
The birth of Irène: the desire to tell stories and to put them on stage. Marie Genon, Irène's creator, transposes stories of passion, of life, of a city and a jewellery House into unique gems and jewel designs.
Surrounding herself with artists and artisans, merging her vision as a scenographer with the expertise of goldsmiths, jewellers and stone setters, Marie Genon devised Irène as a creative studio built on expertise and passion, the engine for producing upscale jewellery collections inspired by architectural themes, and to meet the needs of bespoke creations.
Originally from Belgium, Marie Genon works exclusively with diamonds from Antwerp, which are certified by the "Gemological Institute of America" and meet the criteria of the "Kimberley Process". A long-term commitment to jewellery that is sustainable, environmentally aware and visionary, where pleasure meets goodwill.
Irène is also and above all a rigorous work method, inspired by its founder's own journey: a creative process presenting a life-size model of the future jewel in its smallest details. An essential modelling process that anticipates all the manufacturing steps, overcomes any potential technical difficulties and brings out every single facet of the jewel's narrative. A unique story, which will later be written by the experienced hands of the artisans of the Place Vendôme, in collaboration with Irene.
Irène is also about the desire to offer a different kind of jewellery collection, playing with different scale ratios, detailed down to the hundredth of a millimetre, narrated, staged and inspired by Architecture, by Art Nouveau, by the 'audacious jewellery of the early 20th century created by Suzanne Belperron, René Boivin, Fulco di Verdura and René Lalique.
Irène is about Paris and its monuments, Antwerp and its precious stones. Irène is Marie Genon and her creation studio choosing to tell a new kind of story.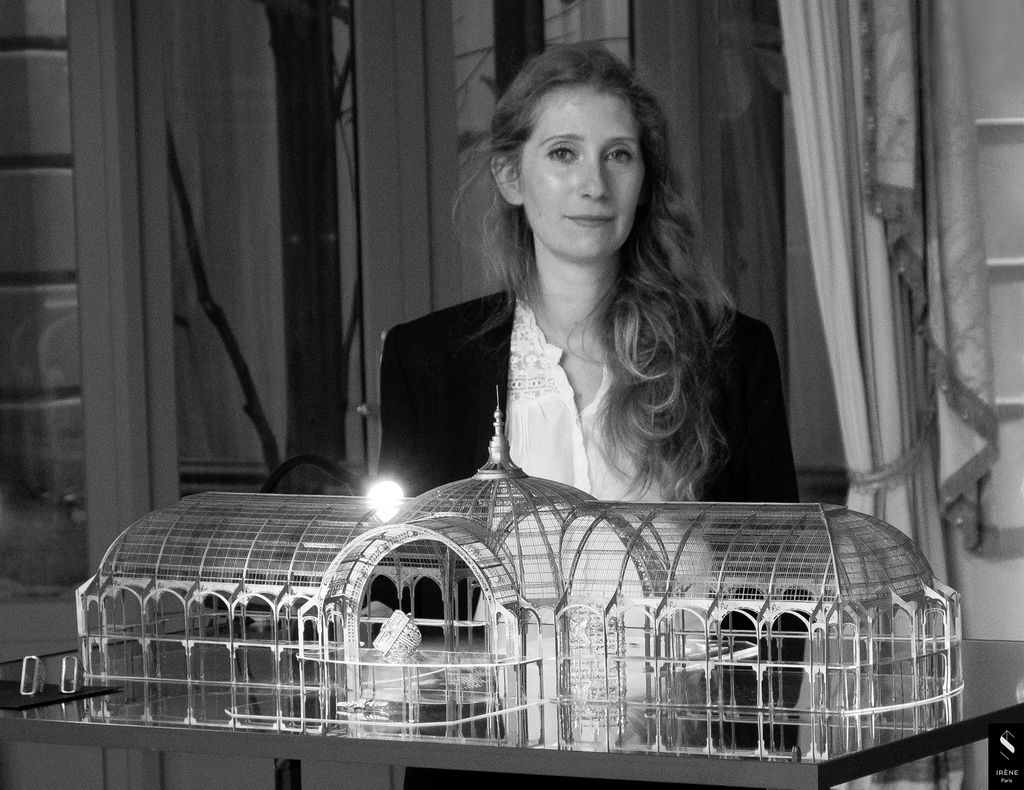 An Irène jewel is much more than an ornament, it is a precious talisman, the emblem of a personal and unique story. To narrate and reflect this story in a bespoke creation, the designer immerses herself in the desires, words and wishes of her clients.
In her hands and thanks to her expertise as a model designer and jewel creator, her handiwork is very precise: she has the touch of an haute couture jeweller, a bespoke expertise. Material and heart go together, mind and body become one.
Magical, singular and exclusive, an Irène jewel is unlike any other.
· From model to jewel ·
It is about interaction, communication and trust. To tell each story as an exclusive creation, the designer first offers an initial appointment at the Parisian Irène Studio, by phone or in person. Reinventing the idea of the family jewel, creating something totally new: everything is possible!
After the first appointment and detailed research, the studio delivers sketches, which will be progressively enriched, before choosing the gemstones and the colour of the metal. A life-size model will then be made to show the volumes and the lines of the jewel, and this model will be handed to the craftsmen who will be responsible for the bespoke creation.
Every step of the creation will be illustrated with technical details, every gesture will be made with passion. Depending on the chosen design, the making of the jewel will take between 2 weeks and 3 months.